Nokia has a surprise in stock for September 7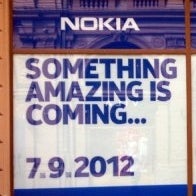 It looks like Nokia has something exciting to amaze us with, judging by the signs posted in front of its flagship store in Helsinki. The store is currently closed down for renovation and will open its doors again on September 7 when
"something amazing"
will also be in stock, apparently.
Given Nokia's current state, the only things that could possibly amaze us are a Windows Phone 8 Lumia smartphone or two. Could the first arrivals land on September 7? There is a slight chance of that happening since
Nokia World begins on September 5
this year, so new device announcements might be planned for the first day of the event. Of course, putting them up for sale two day after their potential announcement would be quite a feat, although that would not be entirely impossible.
If you are of the observant kind, you have probably noticed that on the photo below, there is a QR code being displayed as well. Unfortunately, the link it leads to does not reveal much. It takes you to a Nokia web site called Graffiti Me where you can upload a photo of yours and turn it into a graffiti-like image. There are also hints about amazing things
"at your new Nokia store"
, and that is pretty much it. Nokia promises to reveal more in the coming week.
What kind of surprise could Nokia have for us? Could it really be a Lumia Windows Phone 8 smartphone, as we are hoping, or is it something far less exciting? Let us know what you think by dropping a comment.