Nokia gives us a video break down the recycled content from several mobile phones
20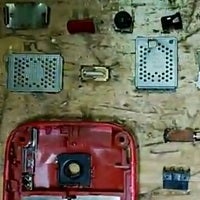 Just how much stuff goes into making a mobile phone? A lot. Building anything nowadays often uses more elements and parts than we can imagine. Taken individually, and unrefined, computers (including mobile phones) are made of some things that would be considered pretty toxic.
Recycling these mobile phones is a total win-win. For one thing, there is a finite amount of some elements and "rare earth" material on this planet. Among those elements, silver and gold.
That is not all though, from a sample group of 43 collected phones from a single apartment building, over 1.75 pounds (over 800 grams) of plastic, 1.3 pounds (600 grams) of iron, a little less than 1 pound (400 grams) of copper and half a pound of aluminum and lithium can be repurposed to build us shiny new phones.
There was even a bit of gold, yes it is less than 0.05 ounces, but at today's market that is still about $60. All told, the materials recovered from that one apartment building and 43 mobile phones were enough to build 17 (and-a-half) brand new Lumia handsets.
So the next time you are upgrading your mobile device, if you really are not planning to use your old one, give it up for trade-in or recycling. The devices and materials will definitely be put to good use.
source:
Nokia
(YouTube)