Nokia gets credit rating downgraded two notches by Moody's; outlook still negative
18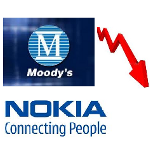 According to Reuters, credit ratings agency Moody's has downgraded the ratings of Finnish cell phone manufacturer Nokia
by two notches
on Wednesday, theoretically making it more expensive for the company to conduct business. Last month, two other credit agencies-S&P and Fitch-also downgraded Nokia's credit ratings. The lower a company's ratings,
the more interest it must pay when issuing bonds or borrowing money
from the bank.
Moody's action comes after Nokia
reported a loss last week
for its latest quarter. And while the company is pinning its hopes on a series of new handsets powered by the Windows Phone 7 OS, it is planning on soon offering the MeeGo powered Nokia N9, a touchscreen device that has
no hardware buttons
on the front of the unit. Despite receiving some positive feedback when it introduced the N9, as we
reported
Nokia insists that
its future is with Microsoft's mobile OS
.
While announcing the downgrade, Moody's did say that
Nokia has enough liquidity and cash to survive
while it makes the transition from offering Symbian powered models to producing its new Windows Phone 7 flavored phones. After the downgrade, Moody's ranks Nokia's debt at Baa2, which is
just 2 rankings above "Junk" status
. Many mutual funds and banks are not allowed to hold debt rated below Baa. Moody's still says that Nokia's outlook is negative, even after the ratings cut, which means that the next action by Moody's will most likely be another cut in Nokia's credit ratings.
source:
Reuters