Nokia files suit once again against Apple while it asks the ITC to ban iPhone imports and more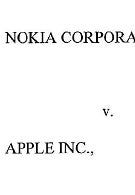 Keeping the pressure on Apple like a tourniquet on a severed artery, Nokia not only has sued Apple once again for infringing on Nokia patents, but is now requesting that the U.S. International Trade Commission use the strictest punishment it has at its disposal and ban Apple imports, specifically mobile products like the iPhone, iPod and MacBooks. In the second suit it has filed in this matter, the Finnish based telecommunications giant alleges that the Cupertino crew infringed on "implementation patents" which cover everything from touchscreens to camera sensors. The original lawsuit complained that Apple had violated Nokia's GSM patents.
The ITC has the power to act quickly, so some movement on that front could come soon. As far as the courts go, considering the number of attorneys that will be involved, and the propensity of the legal system to move as fast as molasses, it could be some time before anything gets resolved legally. Obviously, a ban on imports can be damaging to Apple and using both the courts and the ITC, Nokia is trying to squeeze Apple and force a settlement. For those amateur legal eagles, check out the legal paper work at the source links.
source:
ITCComplaint
,
DistrictCourtFiling
via
Engadget