Nokia explains how wireless charging works on its new Lumia Windows Phones
28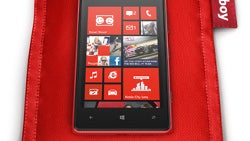 The upcoming
Nokia Lumia 920
and
Lumia 820
are two of many upcoming Windows Phone 8 handsets, but they are the only ones to come with
wireless charging
and that makes them really stand out.
As you've probably heard, the new Lumias will use inductive wireless charging and now Nokia has taken to its official blog to explain the technology behind it. Basically, what makes it possible are two transmitter coils - one on the charging pad and another one on the back of the device itself.
From there on the transmitter coil on the
charger generates a magnetic field
used by the device for charging. Nokia is using the Qi (chi) global standard that is good news for compatibility across the globe. Nokia has perfected the charging pad so now around 80% of it is active and you don't need to worry too much about precisely placing a phone on its place to charge it.
Sadly, it seems that you can charge only one phone on a single wireless charging pad, so if you plan on just throwing your home's worth of phones on it, you won't be able to. Check out the slideshow below to see how the whole thing will work out. The actual charging pads will be available for purchase separately from the phone.
source:
Nokia Conversations