Nokia drops Symbian and 2,800 employees into the hands of Accenture
8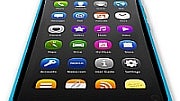 Early this morning, Nokia announced that they have finalized their
agreement
with Accenture, a global consulting and outsourcing company. The deal, which was initially announced in April, will include the
transfer of 2,800 Nokia employees
from Finland, China, India, the U.S., and the U.K. to Accenture.
Those employees, along with Accenture's existing staff, will manage the continuing development and support for the Symbian operating system
through 2016
. Marty Cole, CEO of Accenture's Communications and High Tech group, offered the following:
"We look forward to partnering with Nokia as they continue to support Symbian and transition to the Windows Phone ecosystem."
In addition to managing Symbian, Accenture will become the 'preferred supplier' for Nokia's
Windows Phone transition
. Accenture will use their newly acquired staff to expand their mobile software development, and contribute to the improvement of Windows Phone.
Don't feel bad for those Nokia employees that are getting relocated. Nokia says they will still be a part of the Nokia master plan:
"As we move our primary smartphone platform to Windows Phone, we will look to explore potential opportunities to tap this talent pool as they develop and expand their knowledge and capabilities beyond Symbian."
It's looking like the end of an era, folks...but not quite yet.
source: Nokia