Nokia debunks the Android rumor, sends over a different translation of CEO Elop's quote
99+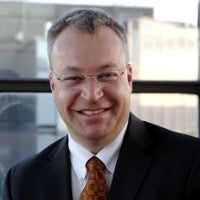 Nokia's PR department was quick to react yesterday to what it deemed a bad translation of the
CEO Stephen Elop interview with the Spanish El Pais
, where his words "anything is possible" on the topic of Nokia going Android made a couple of tours around the globe, or at least the tech blogosphere part of it.
We already thought yesterday that given the context of Mr Elop's answer, he likely meant that with the advent of technologies like HTML5, proprietary platforms, and even Android, might become less and less relevant, and Nokia sent over the correct translation to patch things up and confirm that is indeed the case. It is also not the first time a Nokia-Android relationship rumor surfaces, and is
consequently shot down
with grace by the press reps.
Not that we expected anything else, given the network of contracts with Microsoft over WP for the foreseeable future, but here's the full redacted quote translation by the Finns' PR spin team:
So, the way I think about it is, in the current war on ecosystems, we are fighting with Windows Phone. That's what we're doing. Now, what we're always doing is asking, how does that evolve? What's next? What role does HTML5 play? What role does Android or other things play in the future? We're looking further into the future, but in terms of what we're bringing to market, and what we're immediately focused on, we're focused on Windows Phone.