Nokia comments on possible tablet leak
12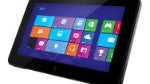 At an event in Pakistan yesterday, Nokia had
something in its presentation
that looked a bit odd. There was a tablet alongside a Nokia device (actually between a Nokia device and a desktop device, but no one seemed to notice that), and so the interwebs started buzzing that Nokia would finally break out of the smartphone market and build a tablet. Well, Nokia has commented on the speculation, and you probably could guess what the response was.
Nokia has denied that the device shown was representative of an actual Nokia device and was simply there to compare Windows 8 UI across devices. The statement read:
That's not a leak. That is a picture that simply shows WP UI alongside Win8 Tablet UI alongside Xbox UI. They are not Nokia specific products.
This is a pretty reasonable response, because it's not like the webs were blowing up with speculation that Nokia was building a desktop machine just because there was a desktop monitor in the picture. Of course, we have to point out that denying that the image was a "Nokia specific product" is not the same as denying that Nokia is building or planning to build a tablet. So, you can take what you will from the statement.