Nokia chief executive says Google is making Android more closed
93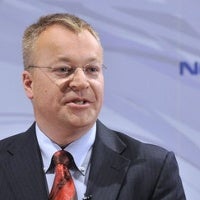 Nokia's chief executive Stephen Elop, an ex Microsoft employee, tied Nokia exclusively with Windows Phone and while the Finns have finally gotten out of the red for the first time this Holiday quarter, it's hard to say that Lumia Windows Phone sales have gotten traction. Actually, the opposite is true.
Still, Nokia's chief executive is committed to Windows Phone and Windows Phone only, and taking the chance to sneak a remark about competing ecosystems and Android in particular. Here are Elop's observations about Android:
"The situation that Android is facing, where the amount of fragmentation that you're seeing is increasing as people take it in different directions, is of course offset by Google's efforts to turn an open ecosystem into something that's quite a bit more closed as you've seen quite recently."

Possibly, Elop is still bitter over Google's decision to stop supporting Exchange ActiveSync accounts, a technology Windows Phone uses for push notifications for services like Gmail.
Or he could be criticizing Google's attempts to bring unification to Android via this following rule for phone makers:
"3.4 You agree that you will not take any actions that may cause or result in the fragmentation of Android, including but not limited to distributing, participating in the creation of, or promoting in any way a software development kit derived from the SDK."
Or he could be tacitly referring to something else altogether.
In either case, Elop is confident in Nokia without Android, and in Android getting more fragmented and closed. It's up to you to agree or disagree with him.
source: Nokia via
The Verge