Nokia chief exec teases new developments, explains how Nokia will differentiate its Lumias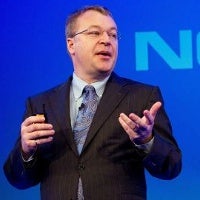 Nokia is undergoing its toughest times, or as chief executive Stephen Elop puts it, has reached the "heart of the transition" to Windows Phone as its main platform. At the same time, the Finnish company is keeping R&D spending suspiciously high, while development efforts have rightly decreased after Nokia abandoned the
"burning"
Symbian and largely MeeGo. So where is that all money going to?
"We have increased our R&D spending [on low-end mobile phones], so

there's clearly something being developed, underway

. There's some excitement there,
" Elop teased.
At 14.5% of revenue, Nokia is spending comparatively much more than others in the industry and the first thing that you'd associate it with is a whisper about a Linux-based
low-end platform Meltemi
. Rumor has it that Meltemi will come to replace Series 40, Nokia's current platform for affordable devices, but we find it hard to understand why would Nokia want yet another budget platform in times when smartphones are eating out the low end.
Nokia might still need a platform to stretch its outreach down to the very bottom of the market where Windows Phone may or may not reach, it's just not clear how Meltemi will fit in between Series 40 and Windows Phone. In either case, there's clear concern that Windows Phone will take a while to go down in price as quickly as Android .
At the same time, every platform needs developers and while the earlier planned MeeGo road accounted for a smooth transition with ubiquitous support for Qt, a set of developer tools consistent with Symbian, the Windows Phone adventure Nokia undertook cut off many of the company's loyal developers. The reason? Only Microsoft tools were allowed in order to develop for WP. Now, however, a breakthrough is possible as Nokia is negotiating Qt support for Windows 8 (and possible Windows Phone 8).
Two years ago, 55% of Europeans bought Nokia smartphones. By 2011, the number has gone down to 11%, almost completely absorbed by Android.
Apart from that, in a recent huge piece by Wired, Nokia's top management spoke about the future of the company and there's tons of interesting details. First of all, there surfaced the big question about whether Nokia can go back to its 20% operating margins from Symbian times. Interestingly, chief executive Elop is not optimistic about that. His comment was a tepid "it's possible," but the likelihood seems that Nokia will gravitate towards the 10% margin in the best case scenario. OEMs traditionally score low margins, most often in the single digits, so that's the reality of Nokia's situation right now.
At the same time, we've heard over and over again how Nokia wants to differentiate. In reality, we've seen little except for the captivating design of the Lumia family. So where will Nokia actually stand out?
"Let them [Microsoft] build it, and we'll place on top things that differentiate us."
Consumers really don't care which OS powers their handsets.
The Finns' strategy lays on four pillars, with their bases rooted deep in the Windows Phone platform. The first and most important one is camera technology. That's where you can see some exclusivity in both the software camera application and the hardware technology, but problem is, all of this is still in the uncertain future.
Second comes location where Nokia has gained a huge advantage. Nokia's turn-by-turn navigation is available in 100 countries and 50 languages. Biggest rival Google Maps offers limited language support and only 28 countries. But Nokia maps will end up in Bing, and accessible to all Windows Phone manufacturers, so it's not that much of a differentiator. Its role is rather to show the dependance between Nokia and Microsoft with Nokia providing the maps, and Microsoft the software platform.
"
Design matters a tonne.
That's why Marko is in every discussion at the top level of the company."
Design is the third pillar, and one thing that's changed in Nokia's design department after the arrival of Elop is that it's much more consolidated. Four offices on different continents with experts on materials, colors and everything design-related have been brought together under Nokia chief designer Marko Ahtisaari.
"We brought together all of the industrial design, all of the colours and materials design, packaging design and all of the user-experience design into a single organisation,"
Ahtisaari explained. The biggest pressure is currently on them to provide the biggest differentiating factor for Nokia Windows Phones.
The fourth pillar, is innovation with hardware. So overall, that's the reality of Nokia today. The full article at Wired below will give you the complete picture, and we'd sum it all up by saying that there seems to be a slightly different attitude at Nokia now. The company seems different. Chief designer Marko Ahtisaari seems to have the right amount of idealism and optimism to paint a bright picture of the future, but chief executive Stephen Elop sounds very pragmatic, hopeful but not bullish on regaining the full glory of Nokia.
The company is definitely facing some of its most severe challenges, and what do you think will happen to it in the future? What were the right and wrong decisions Nokia took? Let us know your opinion in the comments below.