Nokia X+, Nokia XL, available for pre-order in Spain
24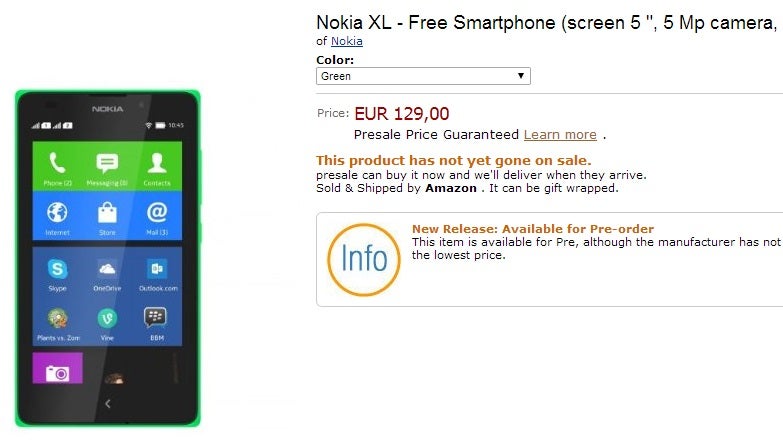 While these are not meant to be representative of the pinnacle of the smartphone world, Nokia's new line of Android based handsets attract a lot of attention.
The attention is worth it too because few companies have been through what Nokia has endured in such a short period of time. From the "
burning platform
" memo to the
acquisition by Microsoft
, Nokia looks like it is going to come through this journey better equipped to take on some seriously heavy hitters in the mobile space.
Now, the
Nokia X+
and
Nokia XL
are available for preorder on Amazon.es, with a pre-sale price guarantee of €119 (including VAT) for the X+ and €129 for the Nokia XL. There is no guaranteed delivery date, but it cannot be that far off if Amazon is taking pre-orders (fulfilled by Amazon directly). Color options are limited. The Nokia X+ can be ordered in green or black, while the XL is green only.
The new line of Nokias are meant for what were called "growth" markets. On the order page, it simply says this device can be shipped to Spain and other "selected countries." What those countries are we are not sure, though we suspect if you are in the US, you might not be on the list of "selected countries."
As entry level devices, the specs will not wow you, but for the intended audience, the price point (SIM free) along with the reliable dual-core Qualcomm Snapdragon CPU, 768MB of RAM, 4GB of expandable storage and expected Nokia build quality, the new Nokia "X" line appears to be a winner.
source: Amazon.es (
1
,
2
) via
Nokia LumiaES
(translated)