Nokia Pulse, still in beta, gets updated features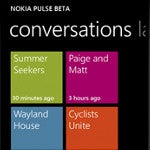 Released last October in beta
, Nokia Pulse allows users to
send text messages laden with information tagged to the message
. Things like your location are sent along with your post and the app will even suggest places to meet with ratings, reviews, maps, directions and more. Since the release of the application, Nokia discovered that half of those who use the application are everyday users of Nokia Pulse and their responses led the Finnish based manufacturer to realize that the app was perfect for meeting-up with friends. As a result, Nokia decided to focus on this function and on ways to simplify Nokia Pulse even more.
Using Nokia Pulse is
no harder than sending a text message
to your buds. It's what comes along with the message that sets Nokia Pulse apart from other SMS services. With the update to the service, you can log into Nokia Pulse with your Facebook account and once the app is open, you can start a new conversation immediately. The live tile for Nokia Pulse now shows more information about unread messages.
sends out a link to the Nokia Pulse mobile client for your friend's specific brand of smartphone
allowing all to enjoy the Nokia Pulse experience. Finally, the whole performance of Nokia Pulse has been improved.
If you already have Nokia Pulse on your phone, you will soon receive a link that will allow you to update the app. Or, you can visit the sourcelink and scan the QR code from your Nokia Lumia handset to get to the download page. There could be a delay in publishing the update in some areas. The version of Nokia Pulse that you want on your phone is 0.9.0.0. so if you are downloading 0.8.0.0, wait a few days and try again.
source:
Nokia