Nokia Normandy leak points to an announcement date: March 25
51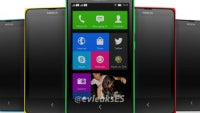 Just in case the various leaks of the Nokia Normandy Android device weren't enough, the latest has spurred a rumor for a potential announcement date for the device. We've been seeing quite a few official looking press render type shots of the device, which usually means that it is close to announcement, if not release. Now, a rumor is putting the announcement for the device on March 25th.
As happens with many rumors, this one begins with someone looking closely at today's leaked pic of the Normandy UI. It looks quite a bit like Windows Phone the more we get into the meat of it, but the interesting thing is that the date set on the device for the screenshots looks like March 25th. Some sources are claiming the date points to February 25th, which would be in time for MWC; but, this latest leak only gives the date (25th) and the day of the week (Tuesday).. And, the thing is that this year is weird, because both February 25th and March 25th fall on Tuesdays. The reason we believe that this points to March rather than February is because that's the date used in a
previous Normandy leak
.
Today's leak makes the second time that Nokia pointed to March 25th in a Normandy screenshot, although that might not really mean anything. It could be a tentative date that Nokia has been aiming at for an announcement or a release. Or, it could be the birthday of the project manager behind the Normandy. It is really hard to say, but we are pretty confident that the leak is not referring to February, which means we have a couple months of rumors before we get real info.