Nokia N9 Hands-on
25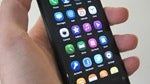 Nokia fans around the world, we feel sorry for you right now. With Symbian Anna, Windows Phone and MeeGo all spread across different upcoming handsets, working out which camp to pitch tent is no easy feat. Until a few weeks ago, it was all very simple, 'Symbian out, Windows Phone in, MeeGo who?', but that was until Nokia decided to let their N9 shaped cat out of the bag. The
Nokia N9
sports MeeGo 1.2 aboard a sleek, mainstream physiques, coupling high grade build quality and a one-hand centric touch UI. Under the hood sits a 1GHz processor with a 3.9" AMOLED display, not to mention an 8MP Carl Zeiss camera with a dual LED flash. Playing with a prototype earlier today, we were in gadget heaven for a full 15 minutes, dampened only by the lack of information surrounding the release of this surprise contestant in the mobile OS race.
Slick, simple, sexy, the Nokia N9 has 'it', that x-factor that lets you know, this is cool. With visual flourishes kept to a minimum, the beauty is in the detail, or lack there-of. The matte, high-grade plastic feels robust and is coloured, not painted, so can't be chipped to reveal white. The convex bevelled display also adds subtle tactility while the lack of buttons just entices you to touch, stroke and swipe.
With an anti-glare Gorilla glass
AMOLED display
and a resolution of 480x854 pixels, Nokia has added a new screen resolution to its repertoire, and while it won't blow minds, it's a solid benchmark to start on. The UI's use of black coupled with the AMOLED display also turns the aesthetics into a fluid rippling puddle of interactivity in contrast to the jarring staggered visuals Symbian became renowned for.
The Nokia N9 goes
easy on the buttons
, with none on the fascia and the right side housing a power / unlock button as well as the volume keys. A headphone jack and micro SIM card slot sit on the top end while the speaker lies below. Similarly minimalistic, a metallic strip accents the 8MP camera on the reverse with a dual LED flash sitting quietly to the right.
As far as the UI
goes, there are three main screens: notifications, all apps and open apps. These can be swiped through left to right or vice versa. Black is used entirely throughout the UI in the background taking full advantage of the display, so with the simplistic design and panoramic take on menu systems, the Windows Phone 7 influence is undeniable.
Either press the unlock button on the side or double-tap on the display to light up the screen, partially unlocking it. To finish the job, simply swipe across the now lit up display for full access. If you have any notifications, you can access them directly from the lock screen. The notifications page is super straightforward, clean and simple. The apps drawer displays four columns of free scrolling applications. These can be rearranged with a long press and can also consist of shortcuts to things like websites, stripping things right back to a single menu to rule them all. Swiping to the multi-tasking pane and your open apps are displayed in a 3x3 format, pinch in and this zooms in on apps resulting in a 2x2 view. A single tap takes you to the app while a long press lets you close one app or all.
When an app is opened, just swipe it left to send it to the multi-tasking pane, swipe it right to close it altogether. If you're worried about accidentally closing apps, Nokia have designed the UI so it only registers a swipe if it starts from the extreme left or right. What's nice is that you can partially swipe apps out, so if you start to swipe, then change your mind, just drag your finger back to reinstate your app to the forefront of the Nokia N9's attention.
Support for accounts includes all your
standard mail clients
as well as Facebook and Twitter. There's also a fully functioning voice guided turn-by-turn GPS that uses OVI Maps as well as everything else you'd come to expect from a modern day smart-phone.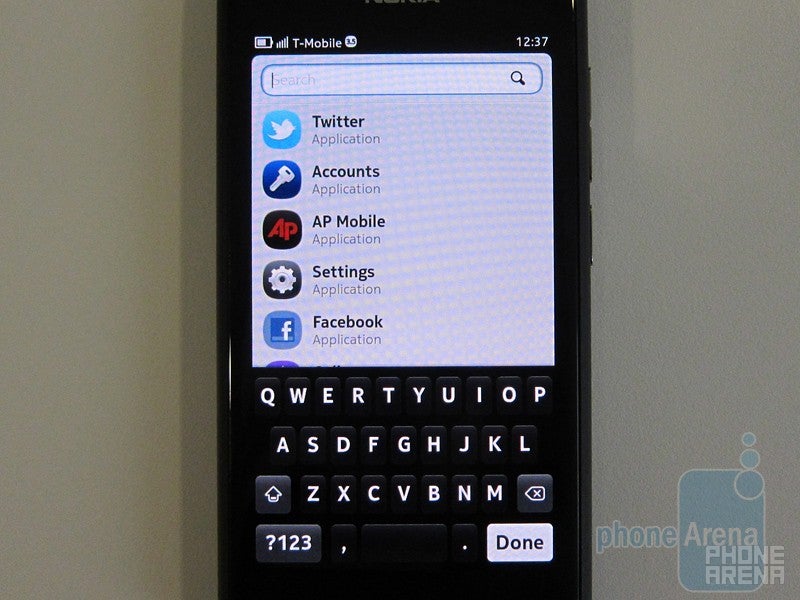 An
interesting point
is that this handset doesn't like to be in landscape. In fact, it actively encourages one-handed usage. Even Nokia's music app, which once switched into coverflow when flipped to landscape, now remains in portrait when the phone is rotated, bypassing some eye-candy but directing the user experience more cohesively at the same time.
The
camera app
is also an evolution. Adopting touch to focus with an array of scenes and manual overrides such as brightness, contrast, ISO etc. The Nokia N9 takes pictures at 8MP / 8MP wide with a sensor designed with wide photos in mind. While it doesn't have all the mega pixels of the N8 and the physical sensor size is smaller, this isn't necessarily a bad thing, with the lens and sensor seeming to produce good quality, comparable shots. It also shoots video at 30fps 720p. The model we used is a prototype and so shouldn't be judged as final, though we were impressed on the whole.
With in excess of
fifteen apps multi-tasking
, we didn't see any slowdown on the Nokia N9, even when playing video and browsing the web. Performance therefore seems to be great off the bat. It will be interesting to see how the phone's 1GHz processor copes when a range of 3rd party applications are installed and live updates are occurring in the background.
So there you have it, a brief run down of the killer aspects of this new MeeGo handset, the Nokia N9. We love it at first glance, feel and play. Unfortunately though, it ticks the same boxes as Windows Phone 7 acting as whole new OS proposition when Nokia have already committed to another. With the hardware looking identical to the leaked Sea Ray, we're worried releasing both devices side by side would confuse and fragment Nokia users across app stores, OSs and user experiences. With Stephen Elop's explicit focus on Windows Phone as the future of Nokia therefore, we can't help but curb our enthusiasm for the future of MeeGo, no matter how intriguing the Nokia N9 is. Check out the video run throughs for an in-depth look at the OS and stay tuned to PhoneArena for a full review in the coming months.
Nokia N9 Hands-on:
Nokia N9 Demonstration:
Nokia N9 Notifications:
Recommended Stories