Nokia Lumia smartphones with NFC and wireless charging capabilities might land in November
11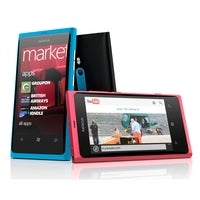 That the Nokia Lumia handsets look quite nice is something that we are already aware of (check out our
Nokia Lumia 800 review
and see for yourself), but that doesn't mean that the Finnish company's design team would just stop there. In fact, Marko Ahtisaari, who currently runs Nokia's design department, is imagining a world where Lumia handsets reach new levels of beauty through minimalism.
Future Nokia Lumia smartphones – ones that are to be introduced in November of this year, are expected to come without a flip-up plastic tab protecting the microUSB port. That is one of the two moving parts on current Lumia handsets, notes Ahtisaari, and taking away moving parts would make the device more appealing to the eye. What's more is that connectors might be gone from Nokia handsets one day, judging by Nokia design chief's words.
If his predictions come to pass, we could expect seeing Nokia Lumia smartphones with NFC support and wireless charging abilities. Currently, NFC is one of the tricks that Windows Phone cannot do yet, but future releases of the platform, Tango or Apollo, are likely to take care of that. And we know that Nokia is fond of the NFC technology as it has incorporated it in its recent Symbian based devices. As far as
wireless charging
is concerned, we have already seen a number of feasible implementations of the technology. The
Palm Pre
and the
HP TouchPad
, for example, have the necessary circuitry out of the box, while a number of smartphones
offer optional accessories that make inductive charging possible
.
Of course, it is not guaranteed that the aforementioned design solutions will ever make their way into a Nokia Lumia smartphone. The absence of physical connectors would likely make Lumia devices more beautiful, but PC synchronization will have to go completely wireless for that to be possible. Additionally, some might find it inconvenient using solely a dedicated wireless charging pad without having the option to charge their handset with a generic USB cable either in their car or while at the office. What do you, guys and girls, think? Do not hesitate sharing your opinion by dropping a comment below.