Nokia Lumia sales growth "very, very steady"
30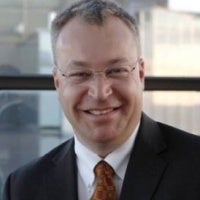 Nokia's chief executive Stephen Elop took the stage at MWC 2012 to speak about the Windows Phone platform and Nokia's Lumia series, and not surprisingly he was very optimistic about both.
"What we're seeing is a very, very steady growth,"
Elop said at a keynote at MWC 2012. The Nokia CEO added that he's looking at the numbers every day and sees improvement everyday. But Microsoft's Windows Phone platform has been slow to get traction despite generally positive reviews.
"If one of those devices goes into someone's hand and they have just a few moments, they look at it and say, wow, this is a different point of view,"
Elop said.
"People look at that and they love it."
Last figures from Nokia showed that it sold 1 million handsets since the launch of the first Lumia device until late-January - hardly a breath taking number. Elop reiterated that Nokia's main focus is to compete with Android.
HTC's Peter Chou earlier also expressed his firm belief in the platform.
"We believe Windows Phone will be one of the very strong operating system ecosystems in the market,"
Chou said. But when asked whether WP will match iOS and Android in scale in three years, he scaled down his optimism.
"I'm not a fortune teller,"
Chou replied.
Neither are we, but we have the freedom to speculate freely and so do you - in the comments below.