Nokia Lumia 900 gets frozen, baked, and nailed in an 8-minute torture test
26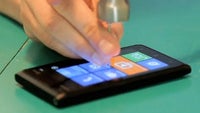 Anyone who has ever owned an old-school Nokia phone, such as the "high-end"
6310
, the consumer-oriented 5110, or the legendary for its durability 3310, knows that those handsets were pretty tough to break. We also bet that more than a few of you still have an obsolete, yet still functional Nokia phone collecting dust inside some drawer. But now that the phones that we use are smarter than ever, is Nokia still building its handsets as tough as it once did?
That is the question
CNET
wanted to get the answer to, so they took a
Nokia Lumia 900
and put it to a thorough resilience test. From the chilling temperatures of a kitchen freezer to the scorching heat of a gas oven, the handset suffers through it all. But whether it survives at the end is something you'll have to find out for yourselves by watching the video below.
Now you probably may want to throw a bag of pop-corn in the microwave and get ready for 8 minutes of amusing cell phone torture. Let us warn you, however, that the following flick isn't for geeks that are faint of heart.