Nokia Lumia 800 survives two story plunge
21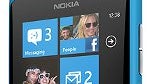 While it may be a case of sheer luck, a Nokia Lumia 800 fell from a balcony two stories up, struck the concrete below and much to the owners surprise the device was almost entirely unscathed.
A member over at the XDA Developers forum is still the lucky owner of Nokia Lumia 800 even after his one year old child tossed it off of a two story hotel balcony. There wasn't a single scratch or a ding to be found on the handset's polycarbonate chassis. Even more impressively, the glass screen was also unharmed. As of now there seems to be only one problem with the Lumia 800 after its plunge. The power button is a little loose although the user reports that it still works just fine.
Although this was an accidental drop test and the device probably landed the best way possible on the concrete, this story should be a testament to how solid the hardware of the Nokia Lumia 800 is. Most devices wouldn't stand against concrete without a protective case. Still, despite the impressive strength of the hardware chalk its survival up to a little bit of sheer luck. So on that note don't go trying this for yourself if you happen to own a Lumia 800 or the similarly built Nokia N9.
source:
XDA Developers
via
WPCentral