Nokia Lumia 800 battery-tripling update out early, Nokia explains why updates are like herding sheep
10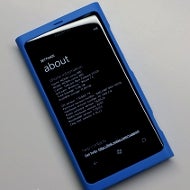 The
Nokia Lumia 800
big firmware update rolled out in a Singapore test run already, and users reported almost tripling their battery life, meaning there must have been quite the leakage before.
The update is now reported rolling in Germany, under the same 12070 codename, and ahead of the April 18 schedule. It seems that it will be coming out in batches for different regions.
Besides today, the update will be released also on April 4 and April 11, then on April 18 it should have blanketed all markets where the Nokia Lumia 800 is sold officially. As per Nokia itself:
If you don't see your country or operator listed in the first batch, or even the second one, you may feel like you've been passed over, but there is a reason for this. Firstly, every software update for Windows Phone has to go through Zune (or its alter ego, Windows Phone 7 Connector, on the Mac).
The real-life analogy that I can think about to describe this is
herding sheep through a gate
. For a Windows Phone partner, developing a smartphone is like that: there's always a balance to be struck between what you can do and what you'd like to do, between what you can offer now and later. But due to the urgent need to get this update in the hands of people, we were able to bring the schedule forward, although not all at the same time.
And since the new software needs to go through the mandatory testing and approval from each and every operator, the variant for your network will be slotted into a batch as soon as it's ready.
Besides 25-30 hours of battery life with heavy usage, the update brings better base sounds for improved call quality and the soft keys illuminate at all brightness levels now. The Wi-Fi tethering update will be out at a later date, say the Finns.