Nokia Lumia 800, Nokia Lumia 710, Nokia 900 specs and images leak just before Nokia World 2011 kicks off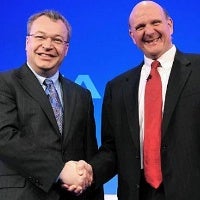 Ladies and gents, the much anticipated Nokia Windows Phone devices seem to have leaked out in their final version hours before Nokia World 2011 kicks off. Welcome, Nokia's
"bunch of phones:"
the Nokia Lumia 800, the Nokia Lumia 710 and the Nokia 900, but keep that shade of doubt about the veracity of their specs and the actual names until the official announcement confirms those.
In the meantime, though, we'd mention that they definitely look credible – the
Nokia Lumia 800
, previously appearing under the Sea Ray codename, has now been confirmed to look almost exactly like the MeeGo-based Nokia N9. The biggest difference will be in the smaller screen – the N9 has a 3.9" display, while the Lumia 800 is expected to feature a 3.7" AMOLED screen.
Nokia Lumia 710
, previously referred to as the Nokia Sabre, seems like the more affordable option. It stands out with its distinct diamond shaped body. The spec sheet also lists 512MB of RAM and 8GB of internal storage. Rumors place both device release dates in November for Europe, but we're still looking forward to a US release schedule.
Finally, the
Nokia 900
, previously appearing as the Nokia Ace, is the high-end model, with a huge 4.3" ClearBlack AMOLED display, 1.4GHz processor and 1 gig of RAM. The Nokia 900 has a boxy design, but what caught our eye is the 8-megapixel Carl Zeiss lens. Could it rival the Nokia N8? Certainly not in the
pixel
count, but it's still curious to see whether Nokia has managed to use its camera
insight
on the Windows Phone platform.