Nokia Lumia 710 for T-Mobile hands-on
16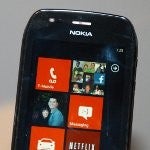 We meet again,
Nokia Lumia 710
, but this time around it's headed to the US market! Bound for T-Mobile's lineup and going on sale starting on
January 11th
of next year, Nokia is seemingly getting their feet wet once again in the always-lucrative US smartphone market. However, considering that it's
sporting a $49.99 on-contract price
, it's sure to raise a few eyes as it begins its descent.
Grabbing a hold of the Nokia Lumia 710 once again
, there's nothing different on the design front with T-Mobile's version – though, it's obviously brandishing some of T-Mobile's logos. For a device that's constructed entirely out of
plastic
, it has a
sturdy
feel to it – thanks to its soft touch rear cover. Still, we do like that it's extremely
lightweight
and comfortable to hold in the hand.
Peeking at the device, one of the first things to capture our attention is its
3.7" WVGA ClearBlack display
, which enthralls us with its deep black production and punchy colors. Under the hood, its
1.4GHz single-core Qualcomm Snapdragon processor
shows its might by providing that fluid execution that we're constantly accustomed to seeing with most Windows Phone Mango devices.
Clearly, it's nice to see Nokia bringing it big to the US scene once again, though, the Nokia Lumia 710 doesn't quite have the same effect as something like the Lumia 800. Nevertheless, it's a good start for this once flourishing handset manufacturer, but at least its pricing will make it an attractive option for those looking to dive into a device running Microsoft's mobile platform.