Nokia Lumia 1520 size comparison: just how large is it?
25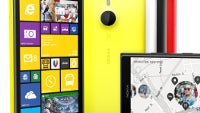 The Nokia Lumia 1520 has the largest display of all recent phablets. Its 6-inch display is slightly larger than the 5.9" screen on the HTC One max and it dwarfs the 5.7" Samsung Galaxy Note 3. The Lumia 1520 is also the only phablet that comes in colors like yellow and red in addition to the more traditional black and white.
However one question remains: just how big is it really? The Lumia 1520 is the largest phablet out there, it is much wider than the Galaxy Note 3 and the One max which would definitely make it extremely hard to use it single handedly. It's almost as large as a small tablet! You have to make some size compromises if you want such a large display after all.
On a more positive note, the Lumia 1520 is a fairly thin device at 8.7mm, thinner than the HTC One max, but just a bit larger than the Samsung Galaxy Note 3.
To fully understand how large the Lumia 1520 really is and how it compares against other phablets and the current flagships, take a look below.
The Lumia 1520 versus phablets
The Lumia 1520 against current flagships