Nokia Lumia 1520 again touts its large screen, stars in a new up-close snap
19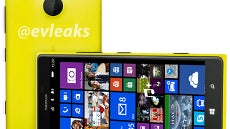 We've been talking about the NokiaLumia 1520 for what feels like an eternity, and that's despite thefact that it wasn't all that long ago since the number 1520 wasthrown into play for the first time by the the rumor-spewing machine. We may berepeating ourselves, but it seems like leaks are turning into anincreasingly reliable andquite informative source of information, which is probably whycompanies like Sonyare starting to worry. But Sony's move doesn't surprise us in theslightest – it's latest experience is a pretty major win for themore and more eloquent black market for sensitive information, and right now it lookslike Nokia and its upcoming phablet are going through the same thing.
Manya snaps have been leaked as far as the Lumia1520 is concerned, andtoday marks yet another one (first in the gallery). This one hails from China, and has sincebeen taken off Weibo (the Chinese Twitter-equivalent). The pictureddevice carries the same Nokia prototype stamp on its bottom bezelthat we've seen before, so it's probably safe to say that you'relooking at the real deal. Speaking of reality, it appears very likelythat a Nokia-scheduledevent for the 22nd October is when the now Microsoft-owned handset manufacturerwill take the drapes off its first ever phablet. Rumors claim thatthe 1520 will make its way into AT&T's and Verizon's lineup, andwill carry the premium price tag of $699 off-contract.
Incase you haven't really followed the story of Nokia's phablet thusfar, then you should know that the 6-inch device willprobably be the first to break the 1080p display barrier in the worldof Windows Phone – a feat currently impossible, due to softwarelimitations. Moreover, if all the murmur pans out, we may also verywell have the first WP device that can go toe-to-toe against anyAndroid flagship as far as raw hardware might is concerned. Said otherwise,the Nokia Lumia 1520 is expected to come sporting some bleeding edgehardware, among which a Qualcomm Snapdragon 800 processor, 2GB of RAMand 32GB of microSD-expandable internal storage. Giving life to the1520 is a hearty 3400mAh battery, or so the rumor has it.
All things considers, at this point youcan probably tell that we, along with many others, are pretty excitedto see whether Nokia's foray into the oversized smartphones nichewill be a successful one. So far, if things indeed pan out asexpected, the only plausible issue that Nokia may run into is the stillrelatively unpopular Windows Phone OS.
via:Winp