Nokia HERE Maps adds Venue Maps for 45 countries
6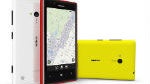 Indoor maps are the next big thing. We've already mapped the vast majority of outdoor regions that are likely to be travelled by someone with a smartphone, but there are a lot of very confusing indoor spaces around the world. Google got to work on
this project
a while back, but hasn't

released stats on how many indoor areas have been mapped. Nokia likes numbers though, and has announced that HERE Maps now has Venue Maps in 45 countries.
This is a pretty impressive update, actually. In the 45 countries that are getting indoor maps, there are 49,000 facilities that will be getting the indoor map treatment. Over half of the maps are for shopping malls, but there are also public transit stations, grocery stores, airports, theme parks, and the reason they are called "Venue Maps" and not "indoor maps" is because it includes famous outdoor areas like Times Square in New York or Carnaby Village in London.
In addition to stores in various indoor locations, Nokia has added helpful items like ATMs, restrooms, escalators, and airport gate numbers to the maps. The new Venue Maps are available in Nokia's HERE Maps as well as Bing.