Nokia Finnish investors considering gathering signatures to get CEO Elop sacked
62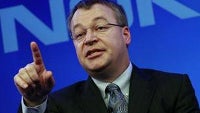 Nokia's chief executive officer Stephen Elop is probably the most polarizing figure in the mobile world not just in the last few years - ever. Elop's strategy to go all-in on Windows Phone, swiftly abandon the Symbian platform and denounce it as a
"burning platform"
yielded an extremely tough transition period for Nokia. The Finns went from being the world's biggest phone maker to second and from the creator of the smartphone and market leader to third, threatened to be outsold by HTC and ZTE.
That tough transition period is far from over. Now, it seems that Nokia shareholders have started a discussion on
gathering signatures to have Elop out of the company
. A forum discussion on Finnish business newspaper Kauppalehti shows that the Finnish shareholder association is actively debating whether it should start making a list of signatures to have the former Microsoft employee sacked.
Under Elop, Nokia is letting go a fifth of its workforce, including staff in Finland. The company has also outsourced manufacturing to Asia, and is shutting down plants across Europe and other countries. Most recently, Nokia closed all alternative platforms like Meltemi, a stripped version of MeeGo, aimed to power the best selling affordable Nokia phones. The focus seems to be fully on Windows Phone 8 at Espoo, and hopefully it will have the first devices out soon and in time for the Holiday season, a success there might be the only thing that will keep chief executive Elop at his position.
source:
Kauppalehti
via
Communities Dominate Brands
Recommended Stories