Nokia Asha 502 and 503 specs leaked: 3G and hit apps arrive to the series
28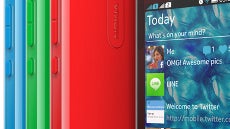 From the same
Chinese Nokia shop TMall that confirmed the Lumia 1520 specs and pricing
for us over the weekend, now comes the listing for
Asha 502
, a new affordable phone from Nokia that is likely to be announced tomorrow.
The leaked post confirms a 3.2" display and the same 5 MP camera found on the leaked
Asha 503
, so we'd wager to guess the 502 would mimic the rest of the 503, save perhaps for the 3G connectivity. The specs for the Asha 503 are said to be 3.2" touchscreen with 240 x 320 pixels resolution, 5 MP camera with LED flash, microSD card slot and a 1200 mAh battery.
It will be the best connected Asha of them all, with 3G, Wi-Fi and Bluetooth 3.0 radios, plus a dual SIM version. Moreover, the Asha 503 and 502 fit in 102.55 mm x 60.55 x 11.5 mm bodies with about112g of weight, and feature this
funky dual-shot body design we already showed you
. The Nokia Asha 502 is supposed to come in 6 candy colors - black, white, yellow, red, green, and blue - so we'd assume the same for the Asha 503, too. The handsets are supposed to come for about $110 and below, which would be pretty decent for the best-equipped Ashas out there.
Moreover, the Asha 5xx range, which will remain with Nokia after Microsoft acquires the smartphone business, is apparently getting hit titles like Plants vs Zombies and Whatsapp, so all is well with the world.