Nokia Asha 501 hands-on
14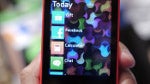 Introduction:
Even though there's no likelihood hood of seeing it stateside, we got the chance to check out the recently
announced Nokia Asha 501
during CTIA 2013. Aimed for emerging markets, its low price point and barebones functionality will fit in nicely in those specific areas, but heck, the design of the Nokia Asha 501 doesn't take a hit whatsoever. Now, don't expect to be wowed by this one! Yup, we're warning you ahead of time.
Display:
When you're aiming to be under a specific price target, you know that the display is going to be affected – a lot too! Rightfully, that's the case here with the Nokia Asha 501, as it's sporting a diminutive
3-inch QVGA (240 x 320) capacitive LCD touchscreen
. So yeah, it's not the sharpest thing out there, nor does it to attract our eyes with its dull color reproduction. Despite that, it's at least responsive enough to register all our presses and swipes. In the greater scheme of things, we really can't knock the display knowing that it's specifically designed to be uber affordable.
Design:
Beyond the low quality display, we're most fascinated by the design of the Nokia Asha 501. Quite frankly, it's
cute
with its hand-friendly size and color plastic casing – plus, it helps that it's barely noticeable in the hand thanks to its
light weight feel
. For a handset targeted for emerging markets, we really have to applaud Nokia with this one, mainly because it has a stylish edge for an entry-level device. Come to think about it, the direction they went with the Asha 501 is clearly what other manufacturers need to bear in mind when making similar offerings. It's small, has a decent build quality, and it still has a fashionable side to its overall design to make it a pleasing offering.
Being a barebones phone, it's not outfitted with all the gear we're accustomed to finding on most modern smartphones. In fact, the only stand out features of the Asha 501 include its 3.2-megapixel rear camera, microSD card slot, 2G connectivity, and 1,200 mAh battery. With the latter, though, it's touted heavily for its impeccable
17 hours of talk and 48 days of standby time
.
Interface:
With the Nokia Asha 501, it relies on new technology adopted by
Smarterphone
, so it means that it's running a revamped user interface. Essentially, it's broken up into two specific aspects – one being your traditional icon-based menu listing, another being referred to as the
Fastlane
. With the latter, Fastlane boils down to a list of features that are used the most, such as providing us access to frequent things like social networking, favorite apps, and favorite contacts. As a whole, it's simple, easy, straightforward, and hassle-free – all of the qualities that makes for a low learning curve out of the box.
Expectations:
In many developed countries, the Nokia Asha 501 isn't going to be gaining much traction, but in emerging markets, it's a totally different story. Come on, for something that converts to roughly
$100
outright, the Nokia Asha 501 is going to appeal to a mass audience that's all about simplicity and longevity. With that superb standby time, it's yet another specific feature that caters to its target audience. It's not going to overpower some of the greats out there, but heck, when you're tight on a budget and prefer something that won't be too complicated, the Nokia Asha 501 seems like the perfect offering.
Recommended Stories