Nokia 808 PureView will be the cameraphone to beat with whopping 41MP sensor, to arrive on Windows Phone too
54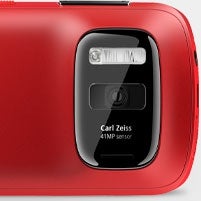 UPDATE:
You can view a few video and camera samples with the Nokia 808 PureView in our article
here
.
Here is a
link to the full resolution photos
, seems about 10MB per piece will be the norm with the intelligent compression Nokia has applied.
Nokia was expected to make a splash at MWC today with the announcement of entry level Windows Phone Tango handsets like the rumored
Lumia 610
, as well as a version of AT&T's
Lumia 900
for the rest of the world.
Besides the news on the Windows Phone front, though, we were also expecting with baited breath something associated with the
PureView brand
, which all clues pointed to being a Nokia N8 successor with a giant
camera sensor
.
Nokia 808 PureView
, with the
whopping 41MP sensor
with Carl-Zeiss lens, both Xenon flash plus an LED video light, f/
2.4
aperture and enhanced low-light abilities. It has a 4" OLED display, 1.3GHz processor with 512MB of RAM and runs Symbian Belle, meaning 360x640 screen resolution still, but we found ourselves just staring at that huge sensor in disbelief, which, at
1/1.2" size
is way larger than even the former 1/1.83" king in the Nokia N8.
The phone does
1080p video
, and for stills it scales down to 38MP for 16:9 format. The 41 Megapixels allow zooming without losing quality if you shoot at standard 8MP or 5MP resolutions, though, so that might have been on Nokia's mind when deciding which camera sensor in their labs to throw in there. The phone is also
ready to shoot in less than a second
, which gives
the Xperia S camera "Quick" mode
a run for its money.
The camera guru Damian Dinning is behind this Nokia 808 PureView, and we can be fairly certain the results will be splendid, no matter if Nokia has overdone it with the megapixel count or not. He already hinted
that

the next best cameraphone "

will have a Nokia logo on it, just like the current one :)

"

,
and also that "w
hen we do
1080p
, we'll do it like no other
", so the puzzle starts to fit together.
The 1080p video can be captured with
4x lossless zoom
, because of the huge sensor, using a new audio technology called
Nokia Rich Recording
. The Rich Recording feat captures stereo sound in CD-like quality, something that has been possible before only with external microphones. The Nokia 808 PureView is also the first smartphone to feature the
Dolby Headphones
tech, meaning you get Dolby Surround sound with any pair.
The Nokia 808 PureView comes with polished and easy to use camera interface with plenty of options to take advantage of the monster sensor, something that Windows Phone isn't quite ready to offer yet. The interface has allegedly been designed with automatic mode in mind for easy snapping and sharing, but giving access to the maximum sensor capabilities as well.
Nokia's Jo Harlow said at the press event that "
People will inevitably focus on the 41 megapixel sensor, but the real quantum leap is how the pixels are used to deliver breath-taking image quality at any resolution and the freedom it provides to choose the story you want to tell.
"
Nokia has been working for years on this sensor, and the best part is that it will be brought to future devices (nudge, wink, Windows Phone) at some point. The Nokia 808 PureView will be available in May for EUR 450 off-contract (about $600). Any takers?