Nokia 808 PureView now officially coming to the US, priced at $699
22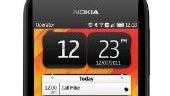 The
Nokia 808 PureView
might just be the revolution in cameraphones, and that revolution is now officially coming to the United States. Nokia finally confirmed that the 808 PureView will arrive on US soil, and Amazon Wireless has got the handset listed for an
off-contract price of $699
.
And that's as good as it gets - don't expect any carrier subsidies on this 41-megapixel cameraphone. The 808 PureView is coming only because of
"popular demand"
and despite the fact that it runs on the dated Symbian platform.
Originally, the handset wasn't even supposed to come to the North American market. Nokia clearly stated that the 808 PureView will be available pretty much everywhere, but not on the North American market. Now, the company flip-flops.
And that's very likely to be the last Symbian handset that the US market will see. But for enthusiasts for whom the platform doesn't matter all that much, who are all about a smartphone camera news about the 808 PureView coming to the States should sound like a blessing.
The phone gives mid-range point-and-shoots a run, and a recent survey showed that it actually beats some cameras like the Olympus E-PL2. Not bad for a smartphone, right?