Nokia 808 PureView meets FCC, still not coming to the States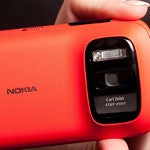 Being a member of the FCC gives you many privileges that the average U.S. citizen doesn't have. For example, the other day the Nokia 808 PureView stopped in and the Feds got a chance to
spend some time with the device and its 41MP camera
. Remember, thanks to the allergy that Americans have to Symbian powered handsets,
the Nokia 808 PureView will not be sold by a carrier in the States
, at least not for now. So when the FCC committee members came home and told their wives that they took apart the 808 PureView and its 41MP shooter, we're sure that there was pride on their faces. Even the kids were excited, pleading with their Dad to talk to the class on the next career day.
In addition to seeing the
Nokia 808 PureView and its 41MP camera
in perfect working condition, the FCC also got to rip the phone apart. We're not sure if they were looking for Waldo or Carmen Sandiego, but the pictures reveal a handset that is scheduled to launch some time this quarter globally, if by globally you mean just about everywhere but the States. Don't be surprised about Nokia's decision here. Didn't your Mama warn you what would happen if you
stopped playing with Symbian powered phones?
source:
FCC
via
Engadget