"Surprise:" Nokia 808 PureView is not coming to the US
28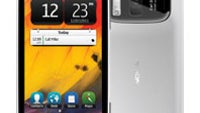 The Nokia 808 PureView might have just gotten you excited about Nokia and Symbian again. Tone down that excitement if you're living in the US, though - Nokia is pouring a cold shower on it in the tiny print of the Nokia 808 PureView specs.
The 41-megapixel smartphone will be available globally everywhere except for North America, and that includes the US.
You might be disappointed but it's hard to disagree with Nokia's underlying arguments - Symbian just doesn't have a loyal following stateside. The 808 PureView is one of the handsets that could have altered that, but since the platform is anyway burning out, it's clear that Nokia is focusing on bringing the same amazing PureView oversampling technology to its Windows Phone lineup.
And the Nokia Windows Phone devices are one thing that's sure to make a debut in the US, so it all comes down to patience. By now, that should have become your best developed virtue.
Thanks, anonymous!