Nokia 808 PureView goes against... Canon EOS 5D Mark III
31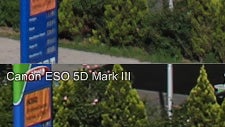 The
Nokia 808 PureView
is all about the camera - its 41-megapixel shooter aims to revolutionize smartphone photography, and you only get to understand how far Nokia has gone with it when you look at things in comparison. GSMArena took the 808 PureView camera for a run against the best out of the DSLR elite, the Canon EOS 5D Mark III, a $3,499 professional shooting machine and... it was a tie. And that's mind blowing.
Of course, the pictures below were all taken under the perfect conditions to highlight the best out of the 808 PureView. The weather provided plenty of sunshine and allowed for the big sensor on the Nokia handset to show off. The details as you can see for yourself are almost equal on the PureView and the Mark III, with slight difference in the color tonality as the palette was slightly more muted on the Nokia handset and the Mark III might have outdone the smartphone just a bit in terms of details. But it's shocking how close in terms of quality the two crops come.
This is not to suggest that the 808 PureView can replace a DSLR for professional photographers - the differences would be more apparent in low-light conditions, and you don't have the flexibility of lenses, but again, just standing next to the Mark III and matching the quality in any condition is an achievement we can't ignore. The 808 PureView has also just gone
on sale in the United States
, and if there ever was something to justify its $699 price tag, the picutres below have got to be it.