Nokia 108, at $29, is an ultra-affordable cameraphone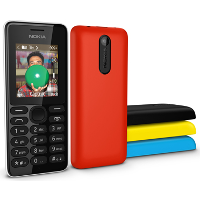 Earlier today, Nokia announced the introduction of the 108, the company's first ultra-affordable cameraphone.
Slated for a Q4 2013 launch, the Nokia 108 carriers a price tag of just $29 with which the company is, once again, hoping to appeal to those, among others, for whom a mobile phone continues to be a luxury. We say once again, because the
Nokia 105
from back in February is very reminiscent of the Nokia 108 in both looks and mission. The main areas where the two differ are the inclusion of a 0.3MP rear shooter, a slightly grown 1.8-inch screen (up from 1.4''), and the addition of Nokia Slam – a new, Bluetooth-based, service which allows you to share photos and such with most Android/WP devices. What's more, the Nokia 108 also comes in a second, dual-SIM flavor, and will also star Nokia's beloved Snake game, a fact that the company's marketing team is trying to ensure will receive publicity.
Both versions of the Nokia 108 come with an FM Radio, an MP3 player and support for microSD card (up to 32GB). Those of you with devices that can't make it through a full day will be glad to hear that the Nokia 108 provides up to a whopping 31 days of standby time, courtesy of its seemingly tiny 950mAh battery.
As mentioned before, the Nokia 108 should land in time for the holidays, and will arrive with the now Nokia-signature palette of bright colors: cyan blue, red and yellow, among with the more traditional black and white.