"No iOS Zone" vulnerability in iOS 8 forces iPhones and iPads to crash
12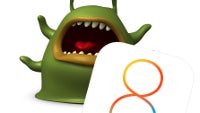 A report states that a vulnerability in iOS 8 can crash users' iPhones and iPads when the devices are connected to a malicious hotspot. The "No iOS Zone" attack can make iOS devices completely unusable by forcing numerous reboots. The only thing that iOS users can do when they find themselves in this situation is to run away from the hotspot's range.
The malicious hotspot uses the Wi-Fi connection to manipulate SSL certificates sent to iOS handsets, forcing a denial-of-service which causes apps and iOS to crash. Speaking at the RSA Conference in San Francisco, Skycure's Adi Sharabani and Yair Amit said that they have yet to see the "No iOS Zone" in the wild, but predict that it could happen in the future. Skycure is a mobile security company, and they have produced videos showing the DoS bug in action.
Both Sharabani and Amit said that they are talking to Apple about fixing the vulnerability. The pair praised he company for its quick response in working on a fix.
source:
Skycure
via
TheRegister