No-contract required Palm Pixi Plus for Verizon is selling for $54.99
3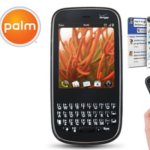 Sure we're all drooling over
HP's upcoming webOS powered smartphones
, but if you want to sample webOS right now, we'd imagine that you wouldn't mind picking up a Palm Pixi Plus for cheap.
It's not the first time we've seen
third party resellers knocking off some serious cash off of Verizon's Palm Pixi Plus
, but it's so much better when they're selling a no-contract required device for dirt cheap. This time around, Daily Steals is offering the miniscule
Verizon Palm Pixi Plus for $54.99
– with free shipping! That's pretty impressive considering that you won't have to sign any lengthy contracts and easily beats the usual $200 and up cost related to fully priced smartphones.
Now don't wait too long because this offer is good for only a limited time. As it stands, there is approximately another 13 hours left before this promotion expires, but we're guessing this isn't going to be the last time we're going to hear about the Palm Pixi Plus for Verizon.
Thank Nicholas!
source:
Daily Steals