No Wi-Fi Calling at first for T-Mobile's Apple iPhone
15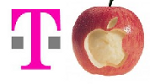 While the
Apple iPhone 5
is on its way to T-Mobile for an April 12th launch, the handset will not include the carrier's Wi-Fi Calling feature which allows the user to make and receive phone calls over a Wi-Fi network and does not count against the caller's available monthly minutes. While T-Moble's chief marketing officer Michael Sievert confirmed that the feature will
not be enabled
on the Apple iPhone 5 at launch, he did say that the mobile operator loves the feature and hinted (although he did not say it explicitly) that eventually Wi-Fi calling will be made available on the device. It should be pointed out that the feature is in use right now for certain Android handsets.
Earlier on Tuesday, we went over T-Mobile's new pricing plan for its smartphones, and
we discussed how all new phones will remain locked to the carrier until they are paid off
, mostly to protect the company. But Sievert explained that T-Mobile will sell you an unlocked Apple iPhone right out of the box if the MSRP is paid at the time of purchase. And if you start paying for the Apple iPhone 5 via the installment plan and pay off the balance, any T-Mobile store will be able to unlock the device while you wait. By the way, to keep T-Mobile an arm's length from the pricing process, the price for the phone is
determined by Apple
. This way there can be no accusations that T-Mobile placed a premium on the price of the phone.
source:
Engadget