No Glasses 3D tablet unveiled by Hammacher Schlemmer, comes with lifetime warranty
1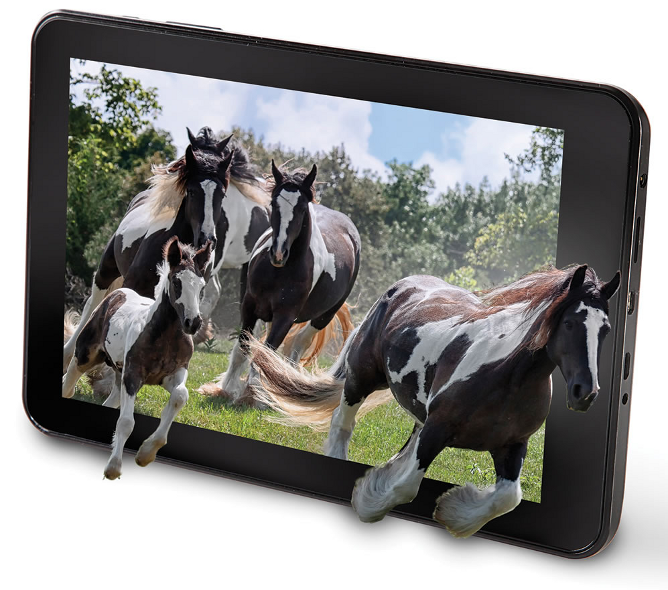 Hammacher Schlemmer has unveiled its first tablet – the No Glasses 3D. The retailer is famous for showcasing first of their kind products, but that might not be the case with the No Glasses 3D slate. This gadget is capable of displaying both 2D and 3D images on its display, but, as you might've guessed, the special thing about the slate is that the user doesn't need to wear special glasses to view the on-screen content in 3D.
Surely, Hammacher Schlemmer's No Glasses 3D tablet is not the first one to toss glasses away from the commercially available 3D displays. Indeed, several other tablets have already done this in the past, but the manufacturer claims that its No Glasses 3D is the pioneer of this technology. The slate uses a parallax barrier over its LCD screen, which displays a different set of pixels for each eye, fooling your mind that the image you are looking at has a depth of field. Allegedly, this technology won't cause any discomfort to your eyes when you view content in 3D.
Apparently, Hammacher Schlemmer has decided to keep some of the most important specs of the No Glasses 3D tablet a secret, because neither the type of its SoC, nor the amount of available RAM have been unveiled. However, it is known that the slate has 16GB of on-board storage space. If this is not enough for you, it can be expanded up to 32GB either by a USB flash drive or a SDHC memory card.
The other specs of the No Glasses 3D are not very impressive, to say the least. The 8-inch LCD screen has a so-so resolution of 1280 x 800 pixels, which means that it has an unimpressive pixel density of 188 ppi. The 2MP back snapper sounds like a big disappointment, at least on paper, while the 0.3MP front camera is just another totally uninmpressive part of the specs list. Hammacher Schlemmer's choice of OS is Android 4.1 Jelly Bean, which was trendy more than a year ago.
The dimensions of the tablet are 5.5 x 8.5 x 0.75 inches and it tips the scales at 15 ounces. Allegedly, the No Glasses 3D comes with a full lifetime warranty, which is one of its few pros. It looks like the device can be purchased at the manufacturer's site for $349.95 (the link is at the source). If the device disappoints you, you may return it and you will be fully refunded.