Nikon hints it could make a smartphone
40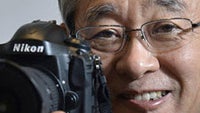 As smartphone usage surges, traditional camera makers like Canon and Nikon have started feeling the heat. Some 750 million smartphones were sold last year and people are starting to turn more and more to the device in their pocket to snap images on the go.
Now,
Nikon
has finally understood and felt the heat, and
will be looking to tap into the smartphone explosion
to counter the effects of slumping point-and-shoot camera sales. While smartphone shipments grew around 46% in recent months, sales of point and shoots dropped by a quarter in April and May.
We want to create a product that will change the concept of cameras
"We want to create a product that will change the concept of cameras,"
Nikon chief executive Makoto Kimura said.
"It could be a non-camera consumer product."
The last sentence was a vague but important statement that many interpreted as an open possibility for
Nikon to actually make a smartphone
.
"We've centralized our ideas around cameras but can change our approach to offer products to that bigger market."
That bigger market is changing more rapidly than ever. Nokia for instance will now almost certainly unveil a revolutionary cameraphone, the
Nokia Lumia 1020
with a
41-megapixel camera
, a huge sensor and both LED and Xenon flash.
"Rapid expansion of mobile devices is a change in business environment given to us,"
Kimura said.
"Our task going forward is to find an answer to that change."
We can only be excited about that statement. Having traditional camera makers' expertise in the smartphone space will bring another bump in image quality even faster. What can be better for us, the users?
source:
Bloomberg