Nike teases self-tying sneaker that uses your smartphone to lace up
11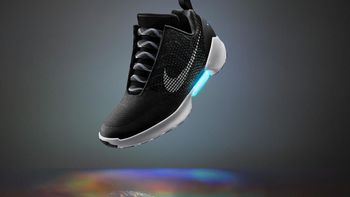 Nike is expected to unveil a new self-tying basketball sneaker tomorrow morning. Ahead of the big event,
the company disseminated a tweet
(via
Engadget
) that suggests that smartphones can be used to tie the laces. The video shows a number of different athletes trying out the sneakers, and a few of them are fiddling with their phone after putting on the footwear.
Just before the brief video teaser concludes, one of the athletes asks, "So I can connect this to my phone?" He then taps the screen on his mobile device and immediately looks down at his feet. "This is crazy," are the last words out of his mouth before the teaser ends. We should point out that the new product does not appear anywhere in the clip.
If it turns out that the laces on the new self-tying "kicks" can be adjusted with a phone, it will be a major upgrade from 2016's HyperAdapt 1.0 (those are the sneakers in the image at the top of this article). The first self-tying sneakers used physical "power" buttons in order to get the shoe laced up. In addition, the price of the new sneakers are expected to be slightly less than half of the $720 that the original version cost.
Nike is apparently adding a whole new product to the wearables category.