Nielsen: 65% of U.S. households own a smartphone
8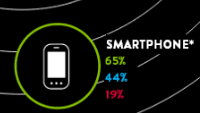 If you live in the U.S., you probably know all about the Nielsen company. They are the ones who report the weekly television ratings. If you want to complain about the cancellation of
Sean saves the World
, send them a letter. Meanwhile, Nielsen's new Digital Consumer Report has been released and it shows that a rather impressive 65% of U.S. households own a smartphone. Consider that in 2009, only 14% of U.S. households owned an intelligent handset. That number rose to 44% just two years later. 29% of U.S.households now own a tablet, up from 5% in 2011.
30% of Americans plan on upgrading their phone in the next 6 months. 49% of those in the more tech savvy 18 year old to 24 year old demographic are likely to upgrade over the same time period. For tablets, the numbers are much lower with only 8% of the entire population in the U.S. planning on upgrading to a new slate over the next 6 months. In the 18 to 24 year old segment, the number rises to 14%.
One of the most pronounced trends in the last 6 years has been the rise in use of mobile apps. This is reflected in a stat from Nielsen that shows smartphone owners spending 86% of their time using a mobile app vs. the 14% of time spent using the mobile web. Each month, the average U.S. consumer spends 34 hours, 17 minutes using the browser or using apps on a smartphone. That is up nearly 10 hours since 2012. And each month, the average mobile phone user spends 5 hours and 48 minutes watching video, up 23 minutes since 2012.
Speaking of video, 23% of Netflix subscribers view the site's movies or television shows on a smartphone, up from 11% two years ago. Larger screens and higher resolution panels certainly help there. 15% watch Netflix from their tablet. Another interesting phenomenon is the usage of a smartphone or tablet as a second screen while watching television. While viewing the boob tube, 66% of tablet owners and 49% of smartphone owners are surfing the web. 29% of tablet owners and 27% of smartphone users are checking sports scores. And in good news for companies spending all that money to advertise on television, 14% of tablet owners and 7% of smartphone users are using their second screen to buy a product or service being advertised on television.
For some unknown reason, Hispanics seem to spend more time using their electronic devices than the general U.S. population. For example, the average Hispanic spends 6 hours and 22 seconds a month viewing video on a mobile phone, compared to a monthly average of 5 hours and 48 minutes for the general population.
source:
Nielsen
(PDF) via
Engadget