Nexus One owners still living on the EDGE?
This article contains unofficial information.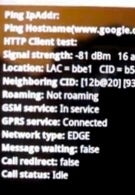 Nexus One holders still seem to be complaining about the lack of 3G connectivity on the handset. Similar to the problems seen on the original first gen Apple iPhone, when your hand is draped around the bottom half of the phone. as you would do when making or receiving a call, the phone loses its 3G connection. On the video, you can see as HSDPA switches to the slower
EDGE
network. With the iPhone, the problem turned out to be a poorly placed antenna, not a issue with software. N-One owners would love for it to be the latter so that a quick firmware upgrade could fix the problem. Until it is resolved, Nexus One owners can bring their phone to the EDGE and back at will, not something that too many other smartphone owners can brag about or would even want to brag about.
HTC Nexus One Specifications
|
Review
source:
Engadget