Nexus 6 will reportedly have crazy fast recharging times
19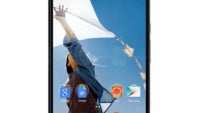 Aside from the gargantuan screen and the powerful hardware specs, the
Google Nexus 6
comes with an accessory that will be much welcomed amongst powerusers - the Turbo Charger. According to Motorola, the new power plug will allow the new phablet to provide 6 hours of use on just 15 minutes of recharge time. Now, what kind of use the manufacturer means, is an untold story, but still, if true, that'd be an impressive feat.
The Turbo Charger is commonly sold seperately from Motorola's website for the price of $34.99. A
recently leaked user guide
for the Verizon-exclusive
DROID Turbo
suggested that it will also feature the new wall plug.
The Turbo Charger works with any phone, which features Qualcomm's Quick Charge 2.0 technology, and in its web shop, Moto actually says that 15 minutes will give one 8 hours of use, instead of 6. Of course, this probably differs from one phone to another, and Motorola had this info up before the announcement of the 3,220 mAh beast, known as Nexus 6.
One can't help but think about the recently announced
Galaxy Note 4
, which has a
similar feature
. Samsung claims that their phone will charge up to 50% capacity in only 30 minutes. We'd be really interested to see the two companies' technologies pitted against one another.
Qualcomm Quick Charge 2.0 is supported by Snapdragon 400, 600, and 800 series, but whether it has been enabled or not is device-specific. Here is a list of
some
Quick Charge 2.0-capable devices:
HTC One (M8)
Samsung GALAXY S5 (Japan)
Sharp Aquos Zeta
Sharp Aquos Tab
Recommended Stories