Nexus 5 system info screenshots emerge, rehash top shelf specs and 12 GB user-available memory
29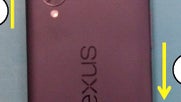 A couple of Android system Info app screenshots have been grabbed from a
Google Nexus 5
running Android 4.4 KitKat again, listing the specs from the alleged source itself.
What the app confirms is a 2.3 GHz quad-core Snapdragon 800 processor with a blazing Adreno 330 GPU, and a 1080 x 1920 pixels Full HD display. The listing says 1080 x 1776 pixels, to be precise, indicating on-screen buttons will be present on the handset. Since 442ppi pixel density is also listed, the back-of-the-napkin calculation returns about a 5" display with no physical or capacitive keys underneath, or near the panel of the
LG G2
, on which the Google Nexus 5 is supposedly based.
We will be getting 2 GB of RAM, and 16 GB of internal memory with the basic Nexus 5 version, of which about 12 GB are user-available, with no microSD slot listed for a good measure. The camera resolution of 3264 x 2448 pixels shown returns an 8 MP module, which is likely to
have optical image stabilization
, with plenty of flash and focus modes listed, plus a number of color effects. Nothing really new, but allegedly the first phone-derived system info coming straight from the Nexus 5.