Nexus 5 gets a hardware revision, currently shipping with new speaker grill and fixed buttons
37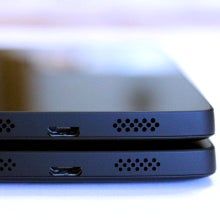 Google and LG have apparently listened to some customer complaints about the first batches of their
Nexus 5
joint venture, and have improved on the areas identified as a minor nuisance in the first month or so of real life usage.
The current batches seemingly ship with improved buttons feel, screen frame and SIM tray, as well as new speaker grill. The keys in the first units felt a tad wobbly, the frame was too sharp, and the SIM card tray didn't fit nicely, but was rather protruding over the side surface a bit.
Those have all been remedied by the dynamic LG-Google duo, but the most notable difference is that the microphone and speaker grill openings at the bottom are now larger, allowing the sound waves to roam freely. There are probably some other subtle improvements, though reports are that some of the new Nexus 5 units are now arriving with too warm screen tones, so you can't have it all, it seems.
It is not set in stone that if you have an older hardware revision of Google's phone with the smaller speaker grill openings, you'll have the other issues like the iffy buttons and SIM tray, but the opposite seems to be true - if you just ordered a Nexus 5, and it arrived with the larger speaker and microphone cover opening at the bottom, chances are that the other fledgling issues are resolved in it, too. From the looks of it, most of the older revision issues are concentrated in the 32 GB white Nexus 5, obtained from the Play Store, which is explicable, given that it is likely the phone's version with the slowest sales rotation.