Nexus 4 and USB-on-the-go are no-go
12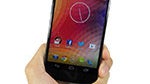 Despite Google mentioning USB-on-the-go functionality for the
Nexus 4
in the manual, the phone actually fails to connect to any peripheral, not only storage drives.
It can't be hooked to a keyboard and mouse either, unlike the limited USB OTG support of the
Nexus 7
, for instance. The Analogix SlimPort ANX7808 that we have on the Nexus 4 certainly supports OTG, as the port specs clearly say: "
USB host, device or OTG data passes through by default."
Thus USB-on-the-go might be something that LG and Google could theoretically unleash with a software update, but why is it left out from the initial firmware seems to be a bit of a head-scratcher.