Nexus 4 and Nexus 10: what our writers think
86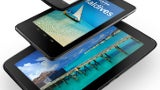 When it comes to technology, or anything else in life, everyone has their own opinion. No two people are completely the same, and what is cool for one person can be simply boring for another. We at PhoneArena are completely aware of that fact and that is why we always try to maintain a well-balanced opinion, representing the views of the general audience as much as possible.
Still, every writer in our team has their own, personal view of the things we're dealing with everyday in the mobile industry. In this post we wanted to share with you how each of us sees the recently-announced Nexus 4 smartphone and Nexus 10 tablet. Since these are two of the hottest devices right now, we're sure that it'd be interesting both for you and us to see what we have to say about them...
With the announcement of the next-generation Nexus devices, Google is eclipsing the competition both from a hardware specs standpoint and pricing – just when things are beginning to heat up. Even better, I'm ecstatic to know that both the Google Nexus 10 and LG Nexus 4 will be arriving in November, just in time for the crucial holiday period. Between them, I have to say I'm a bit more excited about the Google Nexus 10, since it's seriously packing a beefy specs sheet worthy of turning heads – whereas with the LG Nexus 4, it shares many similarities to the LG Optimus G. Regardless, the killer pricing attached to these two wonderful devices goes to show the tightening grasp that Google has nowadays to become the premier force in the mobile landscape.


- John V.
As usual, Google will unleash the latest release of Android (Jelly Bean 4.2) with the release of the newest Nexus devices – this time the Nexus 4 smartphone and Nexus 10 tablet. The Nexus 4 (made by LG) is one of the hottest smartphones this holiday season, and will give the Samsung Galaxy S III some competition. Not only because its running stock Jelly Bean 4.2, but as it also comes equipped with the newest 1.5GHz quad-core Snapdragon S4 Pro processor and will have 2GB of RAM – which should make the phone lighting fast. Combine that with the 4.7" HD display, and you can see why it is such a hot item. My concern is that they left off 4G LTE for data, and since voice can only use GSM (no CDMA model), that they are drastically limiting who can buy the phone, as Sprint and Verizon customers are left out. Meanwhile, the Nexus 10 tablet (made by Samsung) is butting-heads with the newest iPad from Apple, and a slew of other Android tablets on the market. But what interests me the most about the Nexus 10 is the stunning 10" 2560x1600 HD display, combined with Jelly Bean 4.2, that will make it of the best tablets on the market.


- FAUguy
I'm planning to trade in my Galaxy Nexus for a Nexus 4 on release day. $349 unlocked is just too good to pass up on that hardware. Of course, I'm on T-Mobile, so the lack of LTE doesn't affect me like it will many users out there. I may want to blame Verizon and its closed CDMA network for the lack of an LTE model, but it's still a failure by Google to not give the option, especially for international users. The Nexus 10 is nice piece of hardware, maybe not be the most attractive, but Google seems to be aiming for power at a lower price with the Nexus devices this year. The big trouble is still the app selection for 10" tablets in the Play Store, which is still lagging behind because of the relatively slow adoption of Android tablets. It's leading to a vicious cycle: fewer apps means fewer buyers means fewer apps... I'd still recommend a Nexus 7 over a Nexus 10 to anyone interested.


- Michael H.
While Google did the right thing cancelling their New York press conference that was in Sandy's path, it's a shame that they didn't get to surround the product launch with their own "story"; that narrative is important, because this was a true coming out party for Nexus as a consumer brand. The Nexus 10 is the more exciting of the two announcements to me, because it's a completely new hardware design (and new territory for Nexus devices). With the high resolution screen it appears to be the first Android tablet on par with current iPads. The Nexus 4 looks like a better built Galaxy Nexus, but the lack of LTE suggests it will be targeted more at international markets than the U.S., where LTE has become more necessity than luxury from a marketing point of view. That said, I hope Google sticks to its guns with Nexus phones until it can work out a deal with Verizon and AT&T to get more control of their device, in much the same way Apple did with the iPhone.


- Scott H.
After thoroughly enjoying the Samsung Galaxy Nexus, the LG Nexus 4 has very big shoes to fill. Will it? Almost. Sprint and Verizon customers will not be able to partake in the latest Nexus hardware without switching carriers (and possibly breaking a contract). Existing AT&T and T-Mobile users will be able to enjoy presumably great hardware and processor performance, but no LTE connectivity. Galaxy Nexus users that stored more than 8GB of stuff will have to rely on the "cloud" which while a perfectly viable option, is not always ideal if the network is congested or if the battery is low. So, despite the hardware specifications, the LG Nexus 4 is an "almost" device. The Nexus 10 on the other hand will not face such barriers. Android tablets, by and large, have been very successful. The key for the Nexus 10 will be its price point, since specification-wise, there is not much that differentiates it from other tablets. It does have the distinction of being a Nexus device though, and that sets it apart in ways that mere specs cannot. Just as Apple was late in joining the sub-10-inch tablet segment, Google is facing much stiffer competition in the 10-inch segment especially against established players like the iPad, and new, but capable entries like the Amazon Kindle HD 8.9 inch.


- Max R.
The LG Nexus 4 is the definition of a game-changing device! It is astonishing how great of a smartphone one can get for so little, and we have to thank Google for making that possible. But it is certain that other smartphone makers aren't going to just sit around and will release alternatives sooner than later. That's when it is going to get even more interesting! As for the Google Nexus 10 tablet, it is already at the top spot in my wishlist.


- Nick T.
The Nexus 4 is all about the price and the ecosystem. Simply put, it's a gamechanger. We've never seen a device with flagship characteristics have nearly half the price of all its competitors. If you didn't like Google's ads, you might want to rethink your opinion about them because they are what makes the Nexus 4 possible. The Nexus 10 is a needed boost to the ecosystem. It's the tablet with the highest-resolution screen on the market, and that alone is telling. However its main goal is to get developers interested in larger tablets on Android, and at $399 it has the potential to do so.


- Victor H.
The launch of such powerhouses like the Nexus 4 handset and the Nexus 10 tablet at such low price points is throwing a wrench in the competitors' pricing strategies. Google's aim is to lock users into its Android platform and enlarge mobile search revenue, so the prices go in its favor even with a minimal profit margin. The lack of expandable storage also hints at an intention to lock people in the ecosystem, which is now much bigger on movie rentals and purchases too. The Nexus 4 is the best Android phone for the money, and the Nexus 10 is the best Android tablet for its $399, and the only restraint on the sales of those two will be availability.


- Daniel P.
One should not have any doubts that the LG Nexus 4 and Samsung Nexus 10 are remarkable devices as far as technology goes. Both feature super-fast chipsets and have lovely screens, especially the Nexus 10, which is the first tablet to surpass the iPad in terms of pixel density. Both devices will definitely help Google expand its reach in the mobile sector, thanks to their affordable prices, though I'm not really sure how far the search giant will be able to go this way. We should not forget that the iPhone and iPad did not become so successful due to cutting-edge specs. Those immense profit margins are not the result of having super-specs. This makes me think that Google is playing the same old game as before, just stepping it up a bit. The company's gift and curse — to create products that are mainly appealing for the relatively small group of geeky users — is still following it like a shadow, which is a bit troubling. Personally, I'd like to see Google take Android in a new direction - where design and style will be just as important as functionality and customizeability. I'd like to see Google act a bit more like Microsoft nowadays - guiding its hardware partners into designing better, higher-quality products. Products that will not only "get the job done", but ones that I'd want to hold in my hands, just because it feels good, and ones that I'd just want to stare at for minutes, just because I like what I see. These things are as important as they aren't.


- Ray S.