Nexus 4 KitKat updates now available for download (and sideload)
15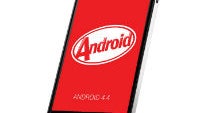 As we just recently learned from Google engineer
Dan Morrill
, there is no way to speed up how quickly your device moves through the rollout process in order to get a new over-the-air (OTA) system update. There are only two real options: either wait patiently for the update to hit your device; or, download the update package and manually sideload it. If you have a Nexus 4, and want to get Android 4.4 KitKat, the choice is yours.
The
rollout of KitKat
to the Nexus 4 began yesterday, which means (according to Mr. Morrill) that only about 1% of users will have seen the update make it to their devices so far. The rest of you could be waiting up to one to two weeks to get the update. Or, there is option #2 which is now available because Google has posted the manual update packages for download (and sideload).
There are two different update packages available. One is for if your Nexus 4 is still running Android 4.3 (build JWR66Y), and one for those of you who got the initial update to KitKat (build KRT16O), but not the bug fix update. Both updates will bring you up to the newest KitKat build for the Nexus 4 (KRT16S). The download links are below, and you can follow the same
instructions
we laid out for the Nexus 7 and Nexus 10 manual updates.