Google engineer Dan Morrill talks about Android OTA updates and why you need to be patient
10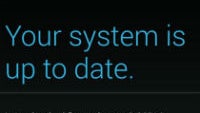 Every time the words "an Android system update is rolling out" is uttered on the Internet, there is a sudden barrage of comments with constant updates on who has and hasn't gotten the update, as well as furious googling to find out how you might be able to trick the system into getting you the over-the-air (OTA) update faster. Well, Dan Morrill of Google wants you make sure you don't follow the answer that you'd find to that question.
The general advice that you'll find on the web about getting an OTA update faster is to go into your app settings and clear the Google Service Framework data. According to Morrill, what this effectively does is change the primary ID that Google servers use to identify your device, which is basically like doing a factory reset without losing your data. This breaks the connection to Google Cloud Messenger, and will have a number of negative side-effects like messing with push notifications, and generally making apps that use GCM act screwy until it figures out what your new ID is (which sometimes won't happen unless you wipe the data for that app.)
Unfortunately, what this
doesn't do
is help you to get your OTA faster. Actually, Morrill suggests that if you're impatient, the best option is to do an
adb sideload
of the update package (assuming this is available for your device and you know what you're doing of course). Additionally, Morrill says that going to the Software Updates settings menu and mashing the "Check for updates" button also doesn't help you at all.
Morrill also goes on to explain how and why Google does OTA rollouts of software. Essentially, the first 24-48 hours after the announcement of an update, only about 1% of devices will actually receive the update itself. If the error reports come back clean, the rollout will continue going at 25% of the user-base at a time until it gets to everyone, which Morrill says typically takes one to two weeks.
Good things to keep in mind. All in all, the end result is just be patient, because there isn't much that you can do to get your update any faster.
Recommended Stories