Nexus 10 Covers finally hit the Play Store
7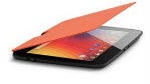 Way back when we first saw Google's Matias Duarte show off the Nexus 10, just before it was released, there were promises of covers for the tablet. Of course, the Nexus 10 was released almost exactly five months ago, and we are just now seeing the first covers hitting the Play Store. The covers are the first official accessories for the Nexus 10.
If you've been wondering why there is that removable piece of plastic on the back of your Nexus 10 that surrounds the camera, this is exactly why. Just remove that piece of plastic, and the covers hook into the back of the tablet and should be a nice way to protect your screen without adding much bulk. Right now, there are two covers available: one that's dark grey, and one that is scarlet (though it looks more like a dark orange on our screen).
The covers are available for $29.99 and are listed to be delivered in 3-5 days. If you want one, just head over to the
Google Play Store
.