Next version of Google Glass rumored to be coming soon
22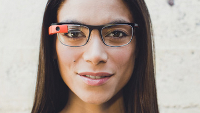 The second-generation Google Glass could be here before you know it. The CEO of Italian eyewear manufacturer Luxottica, Massimo Vian, spoke earlier today in Milan and mentioned that the next iteration of the connected specs are coming out soon. Vian's company became one of Google's partners in March 2014, involved in the OG Google Glass. Viam couldn't reveal a precise date when we can expect to see the next-gen wearable.
Led by Tony Fadell, who heads up Google's Nest division, the second-generation Glass moves away from portraying the device as a toy for tech nerds, and turns it into a useful product for the average Joe. And if you think that this is an impossible task, you should count the number of active smartphone users that there are in the world today. Fadell will take his experiences selling a consumer tech product at Google, and apply it to Google Glass.
Vian says that version 2 of Glass is being prepped and that the Glass team is working on ideas for version 3. Google Glass head Ivy Ross has previously said that the next version of Glass would be cheaper (the OG model cost $1500 retail), offer a better display and sound quality, and be equipped with a longer-lasting battery. Unfortunately for Google, none of those things were the reason for the wearable's slow sales.
Instead, it was the "creepiness" factor that might have made Google Glass a hard sell. With
bars and restaurants banning customers
from wearing the connected specs, and users being nicknamed "Glassholes" the biggest problem that Ross has is softening the image of the product and turning it from something that stalkers would use to making it a product with features that most people could not make it through the day without.
source:
WSJ